A lot of folks on the internet are interested in knowing Sam Heughan's relationship status. The Outlander star didn't open up about his romantic life until now.
In this article, we will tell you all there is to know about Sam Heughan's dating life – whether he is married and/or has a girlfriend.
Sam Heughan, aka Jamie Fraser (Outlander) and His Girlfriend
It was widely assumed that Sam was dating his co-star, but these rumors have been denied several times. Turns out, he is still looking for love.
Huge gossip was going around when Jamie and Claire Fraser were rocking the stage in Outlander. Everyone started assuming that Sam Heughan was dating his co-star Caitriona Balfe with their on-screen intimacy.
When asked, Sam denied the rumors of him dating Caitriona and said he wouldn't ruin his friendship with his "incredible friend."
When asked about his friendship or relationship with Caitriona, he said, "More than anything, she's a good friend."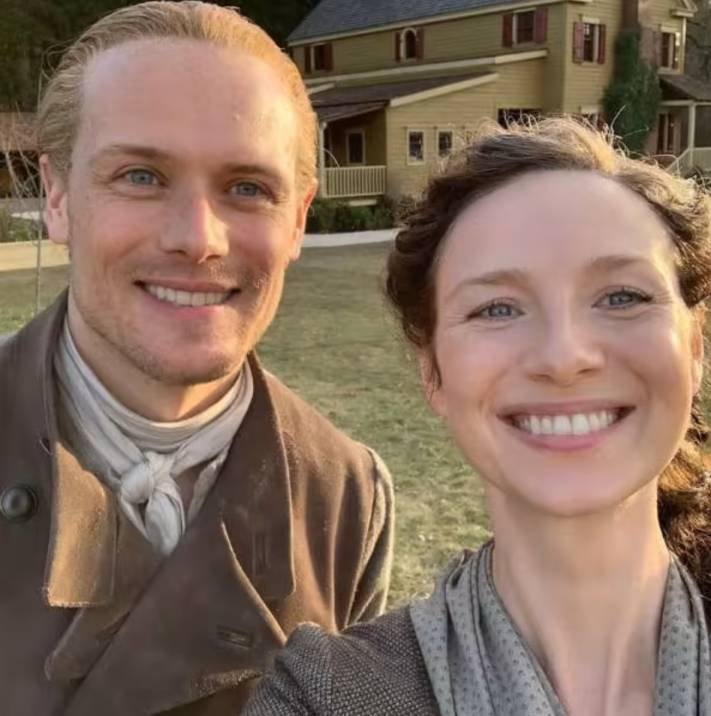 Vanity Fair Episode on How Well They Know Each Other
In this Vanity Fair episode, both Sam Heughan and Caitriona Balfe talk and quiz each other to find out how well they know each other.
Caitriona Balfe Got Married To Tony McGill
At first, Sam himself denied the rumors, but when Caitriona got married to a music executive Tony McGill in 2019, their dating rumors were falsified.
Even though Caitriona is married now, her character and Jamie Frazer's on-screen intimate relationship in Outlander hasn't been affected much.
Before Caitriona's marriage to Tony McGill, everyone assumed that the on-screen couple is also dating in real life. The assumptions were denied, and the hearts of Outlander fans were broken when we heard the news about Caitriona getting married to someone other than her on-screen sweetheart Sam Heughan.
Balfe got married to Tony McGill in August 2019. The ceremony took place in Bruton, England, and Sam Heugham was also invited.
Caitriona Balfe on Her Off-screen Dating with Sam Heughan
"There's a small vocal group that really wanted it, which is just a testament to the characters that we portray…I think things are pretty clear now that I'm engaged to someone else. Everyone gets it now."
Sam Hueghan and Caitriona Balfe Were Never A Couple
They have both always said that they had a good on-screen bond but the rumors about them dating are not true. As a matter of fact, the onscreen couple does agree that they feel "lucky" to have met each other.
"Caitriona and I get on very well, and I'm very lucky," said Sam about their friendship.
Their friendship was so deep that Sam would feel empty when he had to do scenes without her. He said Caitriona not being on the set felt like "losing some in your family. A loved one – It's very strange and I don't enjoy it."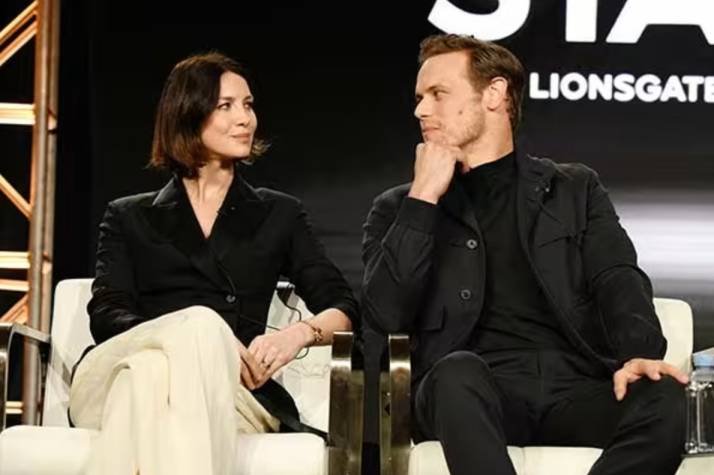 "Whenever we're together, It feels right," said Sam Heughan about Caitriona Balfe.
Even though they were so close on set, they still didn't have a romantic relationship and Caitriona being married to Tony McGill is proof of that.
Sam Heughan is Still Single and Looking For Love
Yes, after all that fuss around him dating this woman or that, he is still looking for love and he says that he's open.
Back then, Sam Heughan was spotted kissing a girl in New York City and was asked about his love life on the Drew Barrymore show.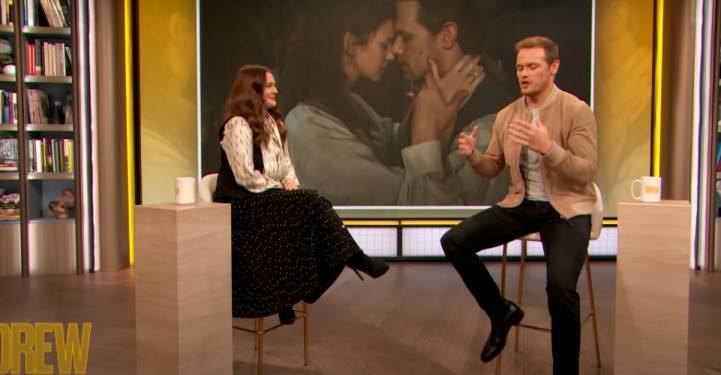 Sam said that he is so busy in his career that he has absolutely no time for intimate relationships.
He said, "the job is all encompassing and we spend so much time on the set and at work… So, yeah but I'm open to something. I'm not sure what I'm open for, but I'm open."
After season five of Outlander, Sam revealed that his work life is getting busier each day. As a matter of fact, his career has taken over his personal life as well. When asked about his love life, here's what he said:
"Certainly, relationships are hard when you're working in Scotland 10 months a year. I travel a lot and any downtime I have, I'm trying to do other projects, so very much, my career comes first.
"Maybe I will find someone eventually," he added.
"My whole career, not just 'Outlander' but as an actor, I have always put that first."
"It's hard when you travel a lot. My priority has been my career, so that's where I am at the moment. But I am sure at some point, I will get knocked off my feet, then I'm screwed," said Sam Heughan when asked about his love life and career.
Sam Heughan Bio / Wiki
Sam Roland Heughan is a Scottish actor, author, entrepreneur, and producer. He was born in Balmaclellan, Scotland in 1980.
He got famous for his lead role in Outlander as Jamie Frazer. Outlander was first aired in 2014 and is still running successfully.
Sam Heughan Birthday
Sam Heughan was born on April 30, 1980 in Dumfries and Gollaway county.
Sam Heughan Awards
His acting is considered so good that he won the People's Choice Award for Favorite Cable Sci-Fi/Fantasy TV Actor and the Saturn Award for Best Actor on Television.
He was also nominated for the Critics' Choice Television Award for Best Actor in Drama Series.
Filmography
Apart from his romantic role in Outlander, Sam Heughan has also worked in movies. He featured in The Empty Train, The Spy Who Dumped Me, and action film Bloodshot.
Sam Heughan Past Relationships
Even though Caitriona and Sam both denied having an intimate relationship in real life, Sam wasn't always single, reportedly.
Back in 2017, Sam Heughan and singer MacKenzie Mauzy were presumably dating each other. They met at an industry event, as Sam puts it. Her relationship with Sam were hugely affected when she was being trolled on the internet.
At first, it was upsetting but it doesn't mean anything. Sam said that it feels like a schoolyard thing.
Suggested Reads:
Mircari – Marketplace for Buying/Selling Preloved Products
Hoo Haa Headphones – A Drummer Sold 30% Of His Company For $30