Masako Katsura became a worldwide sensation when she wowed everyone in San Francisco in the 1950s by showing uncanny billiard skills.
Back in the day, most sports were male-dominated as women were just taught to work as typewriters, sew a bunch of stuff, and do mundane jobs. Even though the sports of that time we male-dominated, there came a lady who showed men their place and stole the show with her trick shots.
The lady is none other than Masako Katsura, also known as the nickname "Katsy."
She played three-cushions billiards as no other man could. A game including nothing but trick shots, a girl killing it in front of another, and that too, in the 1950s? No one could've imagined that in their wildest dreams.
Before we dig deep into who this miracle lady was, let's understand first how the three-cushions billiard works.
What is Three-Cushion Billiards
Three-cushion billiards or three-cushion carom is a form of billiards where you play completely differently from traditional billiards. To score, the player's cue ball must contact at least three cushions and an object ball (in any order).
Those who play three-cushions, or just enjoy watching this game know that it is easier said than done. Turn out that it wasn't so tough for Miss Masako Katsura. But who was she?
Masako Katsura
The Chicago Tribune, a well-reputed news company, had some fancy words to say about this lady of billiards.
"A cushion is something you sew, embroider or tuck behind your back for comfort. Three cushions are just three times that. But to one little lady, three cushions represent a challenge never before taken up by a woman. She is Miss Masako Katsura," stated the Chicago Tribune when describing the legend of Miss Masako Katsura.
It was on the 8th of May in 1952, when Miss Katsura arrived in San Francisco Bay Area where she defeated everyone and stole the show. Six months later, she would arrive in Chicago, where everyone was waiting to see her magic of playing trick shots in three-cushion billiards, and spoiler alert, she didn't disappoint.
| | |
| --- | --- |
| Name | Masako Katsura (桂 マサ子) |
| Nickname | Katsy |
| Height | 5 ft |
| Weight | 96 lbs (44 kg) |
| Born and Raised | Tokyo, Japan |
| Citizenship | American |
| Born | March 7, 1913, |
| Died | December 20, 1995 (Age 82) |
| Spouse | Vernon Greenleaf (died 1967) |
| Coached by | Tomio Kobashi, Kinrey Matsuyama |
| Professional Career Ended | 1961 |
As she would go smoky after smoky, she would not only take on male players but also the champions of that time, and she would defeat them. Katsura would compete with the best male players and she would show her skills and get everyone's attention.
She Couldn't Even Speak English
The interesting thing about her fame is that when every newspaper was writing about her awesome plays, the lady herself couldn't understand what was being said about her. In her appearance, she would remain stoic and show no reaction. However, she did once say that she appreciated all the resentment she would receive.
How Did Masako Katsura Learn Playing Billiards?
Miss Masako Katsura learned her brilliant cue skills from the billiard halls in Tokyo, Japan. Her brother-in-law owned an inside establishment in Tokyo where she started playing at the age of 14. She says that her passion for billiards wasn't strong at first, but she would feel weak and tired, and her brother-in-law would suggest playing billiards for physical and mental exercise.
As she played in the hall, she soon started working there. As she worked, she took interest in how customers would play in different styles playing a variety of trick shots.
Masako Katsura won the Japanese Women's Straight-rail Championship
She learned so quickly that she won the Japanese Women's Straight-rail championship after just two years. Since she won the championship at a very competitive level and at an early stage, she caught the attention of Kinrey Matsuyama, a well-known name in Japan. He was an undisputed billiards champion of that time.
As soon as Matsuyama started coaching her, he shifted her to three-cushions billiard – a better, tougher, and more competitive form of billiards. The way he immediately transitioned Katsura's skills shows how brilliant she was at learning because three-cushions is considered, even for billiards heads, a tough and extraordinarily skill demanding billiards.
Why Was Masako Katsura Shocked When She Came to the US?
You may be thinking of the cultural differences but that's not all. Miss Katsura was shocked, or should we say, disappointed to see that not many women were present in billiards halls in the United States.
She mentioned that there were around 2000 billiards rooms in Tokyo and women were working in almost all of them. When came to the US and saw that billiards as a whole is a male-dominated game here, she felt quite jarred.
According to Miss Katsura, she met only one female billiards player while she was in the US. She also thought that it would be great to have a female-only billiards parlor.
Katsura's Journey from Japan to the US
Katsura met Air Force Master, Sergeant Vernon Greenleaf, in 1948 as he was stationed in Japan, where Katsura lived. When they met, they had an intimate relationship and the couple got married after two years, in 1951.
After Greenleaf was stationed at home at the end of 1951, Katsura and Greenleaf, and newlywed couple, moved to Sacramento Mather Air Force Base. As she came to the US with her husband, she had welcome parties, and the six-times three-cushions champion, Welker Cochran, couldn't wait to meet Miss Katsura, the first lady of billiards.
As more and more servicemen returned to the US after the war, Cochran would hear all the chatter about this one lady who beat all the men in billiards.
Masako Katsura Demonstrating Her Skills to Air Force Men
Fun Fact: Miss Katsura would demonstrate her impressive trick for the troops on V-J (Victory over Japan) Day.
As he kept hearing about the brilliance of Miss Katsura, he was eager to meet her someday. He was so interested in Katsura and her skills that he asked his son, who was stationed 60 miles from Tokyo, to find out more about Katsura. His son didn't disappoint and sent him a 12-page letter explaining nothing but her skills and fame in three-cushion billiards.
Katsura Was All That the US Billiards Needed
When Katsura did arrive with her husband in the United States, Cochran wasted no time and decided to take the role of managing Katsura. After a month, Cochran stated that the game needed a woman player to compete with the best men out there, and Katsura has given them that female player.
As she would go around the US to perform at different shows, exhibitions, and tournaments, her manager, Cochran always went with her to talk to the press telling her unmatched abilities.
Katsura was called a "Real Japanese cue-tee" by the Detroit Free Press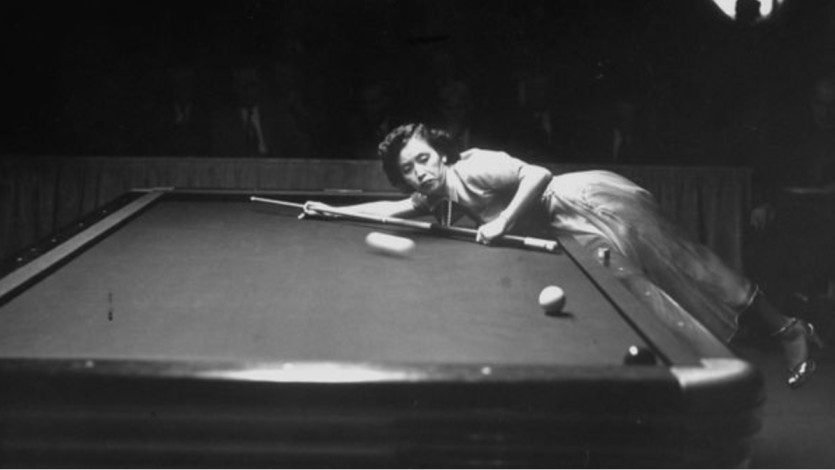 Cochran revealed to the Kansas City Star that Katsura would spend hours practicing her craft. He said that even as a six-times champion, he was still amazed to see her shots on the board.
Even though she would beat almost everyone, the men weren't shy to compliment her on her amazing shots. Jay Bozeman, one of her competitors, said that she was one of the best players he had ever seen. Willie Hope, another competitor, was surprised to see her play saying, "I Wasn't expecting that… The girl is marvelous."
Masako Katsura & Her Achievements in the United States
After she had won Japan's national women's billiards tournament, she came to the US and finished second in the National All Men's Competition (twice).
As she was now playing here and there in the US, she made history as the first woman to ever play in the international billiards title, where she finished sixth.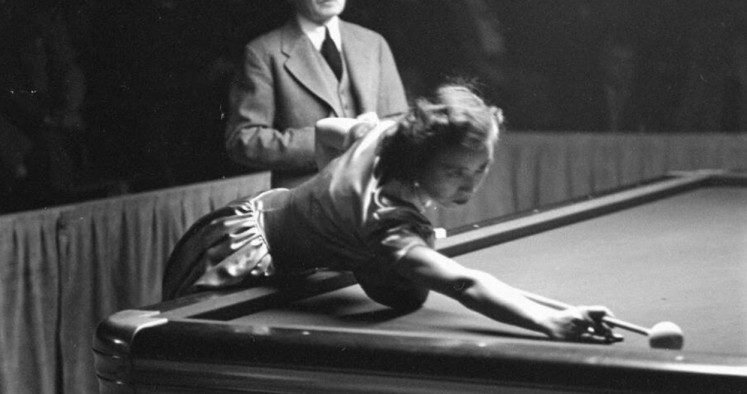 In 1954, two years after she came to the US, she went to Buenos Aires, Argentina, to compete in the world championship where she finished fourth. Even though there were tons of barriers in the 1950s for women to play in competitions such as billiards, nothing seemed to have stopped Katsura and she won defying all odds.
Miss Masako Katsura wanted to play more, but she said that the nature of her husband's work doesn't let her play often.
The End of Katsura's Career
After the 1954 Buenos Aires world championship, Katsura kinda stopped playing professionally as she used to before. She would compete in local tournaments and exhibitions throughout the 1950s. She played her last competition against the rising world champion, Harold Worst, in 1961. Surprisingly, she lost six of seven matches and quietly retired.
15 years after her public retirement, Katsura made a surprise appearance at the Palace Billiards in San Francisco and ran a whopping 100 points in a row surprising the audience.
Miss Katsura had played and contribute so much for sports in women, she was given an honor by the new Women's Professional Billiard Association to be a part of this organization.
Welkren Cochran, her American manager acknowledged that Katsura has opened a new field of sports for women, which was first male-dominated.
Frequently Asked Questions – FAQs
Masako Katsura How did she die?
Masako Katsura died at the age of 82 in 1995 while living in Tokyo. The exact cause of her death isn't known, but it is said that she died peacefully as she died a natural death.
Who is Masako Katsura?
Masako Katsura was a three-cushions billiards champion who brought women of the United States into billiards and competitive three-cushions billiards. She was famous for her remarkable cue skills.
Suggested Reads:
Mircari – Marketplace for Buying/Selling Preloved Products
Eduuolvera Highlights and Review