Animal healthcare is an essential aspect of societal well-being. To meet their needs, more people and animals require versatile veterinary resources. However, accessing veterinary services can be difficult due to distance, time, and availability.
Fortunately, innovative solutions can help improve animal healthcare and make it more accessible and convenient for pet owners and veterinary professionals. Two such solutions are VetandTech and DVMCentral.
VetandTech and DVMCentral are online portals providing digital animal healthcare services, like education and marketplace. These portals can help bridge the gap between resources and their accessibility, ultimately improving animal healthcare outcomes.
In the following sections, we'll explore how VetandTech and DVMCentral are revolutionizing animal healthcare and how they can benefit pet owners and veterinary professionals alike.
Making Animal Health Solutions Accessible and Convenient
Before we dive into the details of our platforms, it's essential to understand the difficulties that pet owners and veterinary professionals face when seeking veterinary care. Owners and veterinarians require dependable platforms for purchasing animal supplies. Furthermore, there is a great need for an educational resource that provides veterinary learning, skill, and knowledge.
VetandTech and DVM Central intend to address these issues by developing innovative solutions to streamline the delivery of veterinary services. Learn more about our two portals and their services in the sections below.
What is Vet and Tech?
Vet and Tech provides learning solutions for all veterinary professionals. We integrate advanced veterinary resources for veterinarians, students, nurses, veterinary technicians, and pet owners. Vet and Tech strives to improve animal care by providing veterinary resources that are valuable sources of information.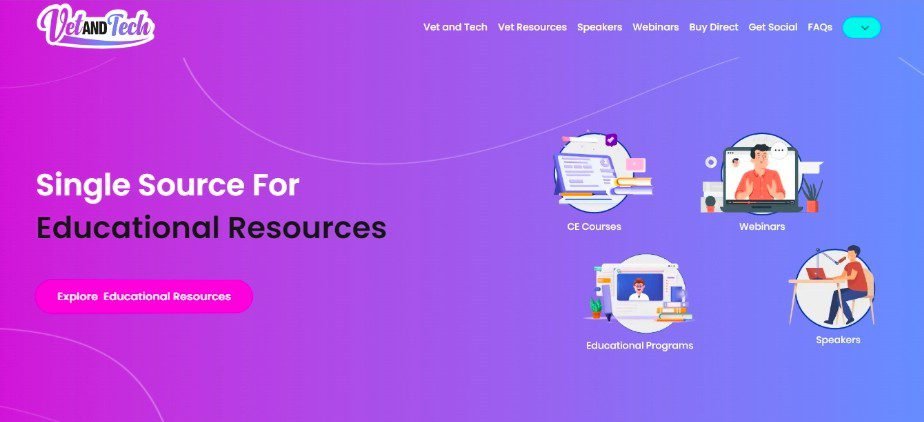 Resources of VetandTech
VetandTech provides a range of educational resources that cover a variety of topics. These veterinary learning solutions are as follows:
Our Vet resources include Educational Programs, Online Resources, Associations, Surgical Procedures, Conferences, and Common Diseases.
Professional Webinars and CE Courses for earning annual credits.
Newsfeed and Blogs for the latest updates.
Job postings for your job search.
Benefits
There are great benefits of VetandTech, which we have explained in the following.
We provide free vet resources, which anyone can access. These resources cover various topics related to pet care and the latest veterinary medicine updates.
We offer webinars and CE courses for veterinary professionals. These courses are convenient and flexible, allowing professionals to earn their CE credits online and at their own pace.
After completing a webinar or course, veterinary professionals can receive a certificate of completion, which can be used to document their continuing education credits.
VetandTech's educational resources are not just for veterinary professionals, and pet owners can also benefit from the information provided on the platform. Pet owners can learn how to properly care for their pets and make informed decisions about their health and well-being.
We have many speakers and industry experts on our page. This allows veterinary professionals to choose the topics and speakers most relevant to their interests and professional development goals.
What is DVM Central?
DVMCentral is a veterinary marketplace where you can buy and sell animal health products. We aim to bring suppliers and buyers under the same roof to promote the culture of direct buying. We want to make buying and selling veterinary supplies and services easier. DVM Central's goal in providing these services is to increase access to high-quality animal health products and services while making it easier for veterinary professionals to provide the best possible care to their patients.
Services of DVM Central
Those are some great services that DVM Central provides to increase access to veterinary products and services. These are as follows:
We have built a multi-vendor platform that allows different sellers to sign up and showcase their products.
We also feature service providers and their wide range of services, including veterinary care, grooming, and boarding.
We have created various categories in our online vet supply store, from surgical instruments to pet grooming.
Buyers can easily sign up for shopping and browse and purchase products and services.
Benefits
Overall, DVM Central centralized marketplace for high-quality products and supports the growth and sustainability of businesses:
We allow veterinary hospitals, clinics, and medical facilities to buy directly from well-known and reputable manufacturers and suppliers in the industry. This ensures that customers have access to high-quality products and can be confident in the authenticity of what they are buying.
We offer customers a one-stop shop for various products from different suppliers. This allows customers to compare and shop for products all in one place, saving time and effort.
We are committed to helping suppliers, and service providers promote and sustain their businesses. By providing a platform for businesses to showcase their products, we can increase their visibility and reach a larger audience.
Sellers can promote products through deals and coupons, which can help boost sales and attract new customers. These promotions can be a great way for businesses to get their products in front of potential customers.
Sellers on DVM Central have access to their dashboard, allowing them to manage their business conveniently. This dashboard provides sellers valuable insights into their sales and allows them to track their inventory and orders.
Wrapping Up
In conclusion, Vet and Tech and DVM Central are two innovative solutions for animal healthcare that offer various services and benefits to veterinary professionals and pet owners alike. The advantages of using these platforms are unlimited, including increased access to veterinary learning, animal health products, and veterinary services. As a result, we encourage pet owners and veterinary professionals to use VetandTech and DVM Central for their animal healthcare needs. By doing so, they can take advantage of these portals' many benefits, including increased access to veterinary care, high-quality products, and a more streamlined experience.