Infertility is becoming an increasingly common concern. It is affecting both men and women. Often, medical treatments for infertility are expensive and invasive. Thus, more people are looking at the role of nutrition and lifestyle as potential ways to improve fertility. This article explores the nutrients essential for reproductive health and the lifestyle changes that can make a significant difference. It's a good idea to consult with a healthcare provider – Asian Institute of Infertility Management – Fertility Clinic in Indore who can guide you towards the best course of action.
So, without further ado, let's talk about the connection between nutrition and fertility. Also, you will get to know about how lifestyle and fertility are connected.
Most Important Nutrients for Fertility
To understand the connection between nutrition and fertility, you need to first know about the foods that increase fertility in females. Here's a guide:
1. Proteins
We all know that proteins are essential for muscle growth. However, they are also vital for cellular function, including those processes involving fertility. They aid in hormone production and egg quality. Therefore, to increase fertility, eat lean meats like turkey, and fish rich in omega-3 like salmon. Also, try plant-based proteins like lentils, chickpeas, etc. These can contribute to improved fertility outcomes.
2. Carbohydrates
Eating carbs can be very helpful when it comes to improving fertility. Select the right type of carbohydrates. Specifically, complex carbs found in whole grains, fruits, and vegetables, are essential. These carbs help maintain blood sugar levels, which in turn supports hormone balance crucial for fertility.
3. Lipids (Fats)
Fats are often demonized. However, certain fats are essential for hormone production, particularly the hormones related to fertility. Omega-3 and omega-6 fatty acids, found in fish, flaxseeds, and walnuts, are quite beneficial.
4. Antioxidants
Antioxidants protect the body from oxidative stress, which can impact fertility negatively. Vitamin C and vitamin E are potent antioxidants. These are found abundantly in citrus fruits, nuts, and leafy green vegetables.
5. Folate
Folic acid is essential for women during pregnancy. It's also crucial when trying to conceive for both genders. For women, it can improve ovulation. For men, it can boost sperm quality. Consume dark leafy greens like spinach, beans and kale. These can provide a good amount of folates.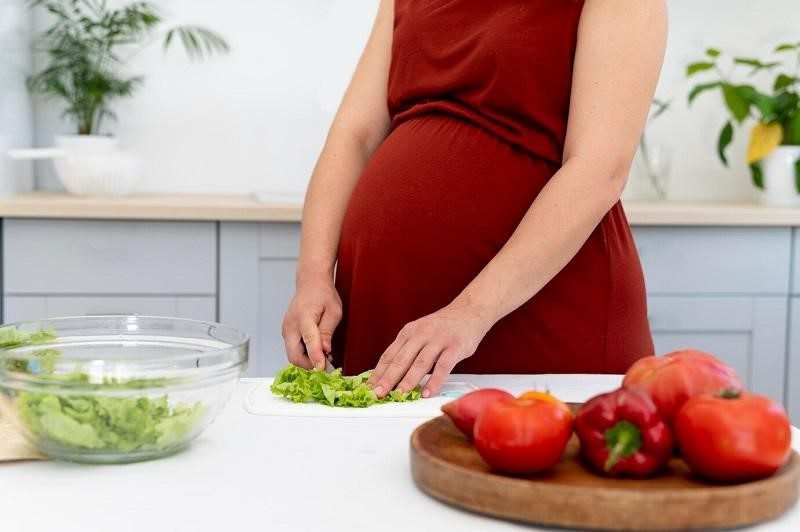 6. Iron
Anemia is primarily caused by low iron levels. This can significantly hinder your pregnancy plans. Iron is essential for creating a hospitable environment for a fertilized egg. Iron-rich foods like spinach, beans, kale, tomatoes, green peas, beetroots, broccoli, eggs, and lean meats are your best bet to fight anemia.
7. Foods with Low Glycemic Index
Paying attention to the glycemic index of foods can help maintain stable blood sugar levels. This is an essential aspect of hormone balance. Foods with a low glycemic index like whole grains, legumes, and certain fruits and vegetables are preferable.
Lifestyle Factors Affecting Fertility
Now let's explore the connection between lifestyle and fertility.
Age
Age is an inevitable factor affecting fertility. For women, fertility starts to decline in the late 20s, more so after 35. For men, fertility drops gradually after 40. So, stay aware of the biological clock. This way, you can make informed decisions.
Tobacco, Coffee & Alcohol Abuse
Tobacco, excessive coffee, and alcohol abuse are detrimental to fertility. For both men and women, smoking can reduce fertility by affecting egg and sperm quality. Excessive alcohol and caffeine can also have similar effects.
Stress
Stress has a profound impact on fertility. Chronic stress leads to the production of cortisol. This cortisol hormone can disrupt other hormones necessary for fertility. Relaxation techniques like yoga and meditation can help in stress management.
Unbalanced Body Weight
A body mass index (BMI) that's either too low or too high can adversely affect fertility. For women, a BMI that's too low or too high can disrupt menstrual cycles. In men, it can reduce sperm quality. A balanced diet and regular exercise can help in maintaining an ideal BMI.
The bottom line
Infertility is a complex issue. It often requires a multifaceted approach for resolution. Nutrition and lifestyle adjustments can serve as foundational steps for improving your fertility. They are often easier to manage and less invasive than medical procedures. Therefore, maintain a balanced diet and choose a healthy lifestyle. You may find that the path to parenthood becomes a little easier to navigate.
Suggested reads:
Nicolas Cage's Son 'Kal-El Cage' – Meet the Celebrity Child and Personal Life
Can You Use Ulta Gift Cards at Target?
Hisoka Hair Down is The Hottest Thing You'll See in Anime (See Pics)