Hairy Grabster was heavily criticized by the sharks in Shark Tank, but the business has grown since then, having a net worth of $1 million. We'll examine their strategies and growth post-Shark Tank's rejection in this article.
Getting all wet in the shower and losing hair, especially if you have longer hair, is a problem faced by all. The hair then goes into the drainage and disturbs the clogs, causing more problems. Hairy Grabster was the solution proposed by Paty and Andy Watne from Illinois.
On Shark Tank, the product was pitched when it was in a very early stage. The sharks had mixed opinions about the design, idea, and economics of Hairy Grabster. 
Did Hairy Grabster get a deal on Shark Tank? Hows is the business performing after Shark Tank? How much is Hairy Grabster's net worth in 2023? 
These are the questions that we'll be answering in this article as we take a closer look into the sales and valuation of the "hairy" business.
What is Hairy Grabster and How Does It Work?
Hairy Grabster is a small plastic device that can be attached to a bathroom wall so that you can wipe off your falling hair in order to avoid them going into the drainage. It features 12 suction cups on its back and bristles that can remove unwanted hair.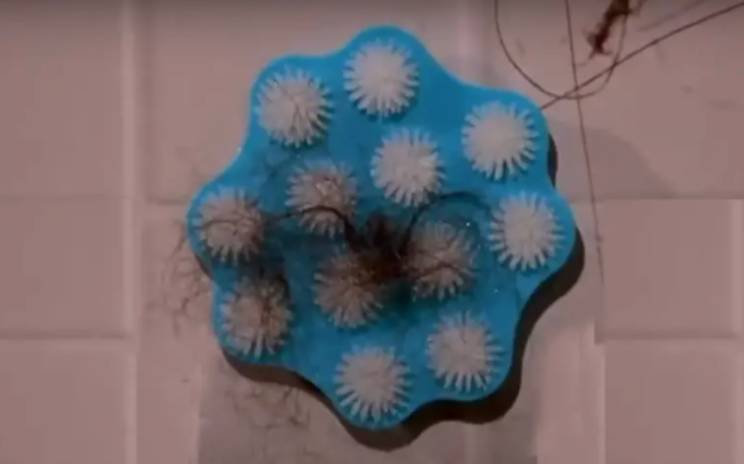 Image Source: Hairy Grabster
As we know that those with longer hair, especially the ladies, lose hair in the shower, and they have no option but to wipe them off the wall, which is gross. With Hairy Grabster, they have a "Grabster" installed on the wall, and they can wipe their hair off their hands with this small device, and go about their business.
Headquartered in Illinois and founded by Andrew Watne and Patricia Watne, the Hairy Grabster goes for $9.99 on retail, and is solving the "hairy" problem of thousands of people in the United States.
The Hairy Grabster Pitch on Shark Tank
The couple pitched the Hairy Grabster in a unique and charming way to impress the sharks, and luckily, they were impressed at first, but after knowing the economics, and the core design principles, they had questions.
On Season 12 Episode 18 of Shark Tank, Hairy Grabster was pitched as the entrepreneurs were seeking $75,000 of investment to give up a 20% stake in their business, valuing Hairy Grabster at over $375,000 at that time.
In their sales pitch, they mentioned that Hairy Grabster was sold for $9.99 while the production cost per product was only $1.3 each, which is a big profit margin, but only if it sells.
The Sharks' Reaction to Hairy Grabster
The Sharks had mixed opinions and reactions over this "hairy" solution to a "hairy" problem. Kevin O'Leary was the first one to step in and criticized the product for not being competent enough. He mentioned Drainwig, a product better and similar to Hairy Grabster, so he was out.
Daymond John was the second one to say what he had to say (he had no interest) and was out of the deal. Now, Mark, Lori, and Barbara remained, but they had conflicts of interest too.
Did Hairy Grabster Get a Deal at Shark Tank?
One by one, the sharks told their reasons and decided not to invest. The couple wanted to use influencer marketing to drive their sales, but Mark Cuban, an expert in sales, didn't see the product winning even after extensive influencer marketing.
Lori did seem interested as the product was for a niche market, but she said that her money won't be moving much, so she was out too.
Eventually, all the sharks were out and Hairy Grabster walked out of Shark Tank without a deal.
Hairy Grabster's Net Worth: From Shark Tank to 2023
Hairy Grabster wasn't a successful product until after the Shark Tank episode. The company has sold just over 60 products, which is why the sharks weren't interested.
Hairy Grabster's Valuation Before Shark Tank
Hairy Grabster's business was worth over $375,000 at the time of the Shark Tank episode, according to the founders. The sharks didn't say anything about the valuation, though.
Hairy Grabster's Growth After Shark Tank
Even though Hairy Grabster didn't get a deal on Shark Tank, the show's exposure was enough to get the product into the relevant market. For instance, there are now many reviews and videos on YouTube telling the world how amazing this product is.
This exposure has allowed Hairy Grabster to not go bankrupt, and make real money after being rejected by the sharks. When it comes to the number of sales, the business is not registered on any big capital website or organization, so the sales data cannot be found anywhere.
However, with the number of website visitors and how much it is talked about on the internet now, we can assume that Hairy Grabster is doing well, even after the Shark Tank rejection.
Hairy Grabster's Net Worth in 2023
As of 2023, Hairy Grabster has grown its business and now doing very well in terms of revenue and profit.
Based on the sales projection and valuation, Hairy Grabster's net worth is projected to be over $1 million in 2023.
Final Words
Even though the Sharks on Shark Tank passed on Hairy Grabster, the once-rejected product is now a thriving business that's worth over a million dollars in 2023.
Believe it or not, being snubbed on the show gave the product the boost it needed to reach its target market and grow in popularity. It's a real testament to the fact that rejection doesn't have to equal defeat, and that with a little perseverance and determination, success can come knocking on your door, and Hairy Grabster is a good example of that.
Frequently Asked Questions – FAQs
Did Hairy Grabster get a deal on Shark Tank?
Hairy Grabster did not get a deal on Shark Tank, but the show's exposure was all they needed to expand their business. Once a Shark Tank rejection, Hairy Grabster is still running and making money.
What is a Hairy Grabster?
Hairy Grabster is attached to any smooth surface and swiped with hands to get rid of pesky hairs to avoid having plumbing problems and seeing unwanted hair in your bathroom.
Who Invented the Hairy Grabster?
Hairy Grabster was invented by Patricia Watne when she and her husband saw her daughter's hair in the shower and it was flooded due to hair clogs. The product was then pitched on Shark Tank, but couldn't get a deal.
You may also like to read:
Williams Syndrome Famous People
Pavlok Net Worth 2023 – Pavlok Tastes Shocking Success Without Shark Tank Approval
Bala Bangles Net Worth Soars to $40 Million in 2023 with Mark Cuban and Maria Sharapova as Key Players