How wonderful would it be to have perfectly groomed eyebrows when you wake up in the morning?
You may shape your eyebrows every morning without using pencils or powders by temporarily tinting them with henna in a painless, natural method. Additionally, trying out a shape before committing to feather-touch tattooing is a fantastic method.
Although the service is relatively new, henna color has been used for thousands of years to create temporary tattoos and body art.
You ask, what are henna eyebrows?
The skin under the brow hairs is stained with henna as a form of eyebrow tinting. This is done to visually fill up any empty spaces by casting a shadow or giving the appearance of depth and fullness.
The plant known as the henna tree, or mehendi, is used to make henna, a natural color. Since the time of the ancient Egyptians, henna has been used for various things, including coloring hair, clothing, and other materials, as well as for cosmetics.
Henna brow application is quite similar to henna coloring techniques used in traditional Indian culture, however, the colors have been developed to accommodate different eyebrow tones.
What steps are included in the henna brow process?
A paste made of Mina eyebrow henna powder and regular water is applied through the shape of your eyebrows and let sit for 10 to 15 minutes before being washed off.
For an ombré appearance, the arch and tail of the brow are drawn with greater vigor than the beginning of the brow.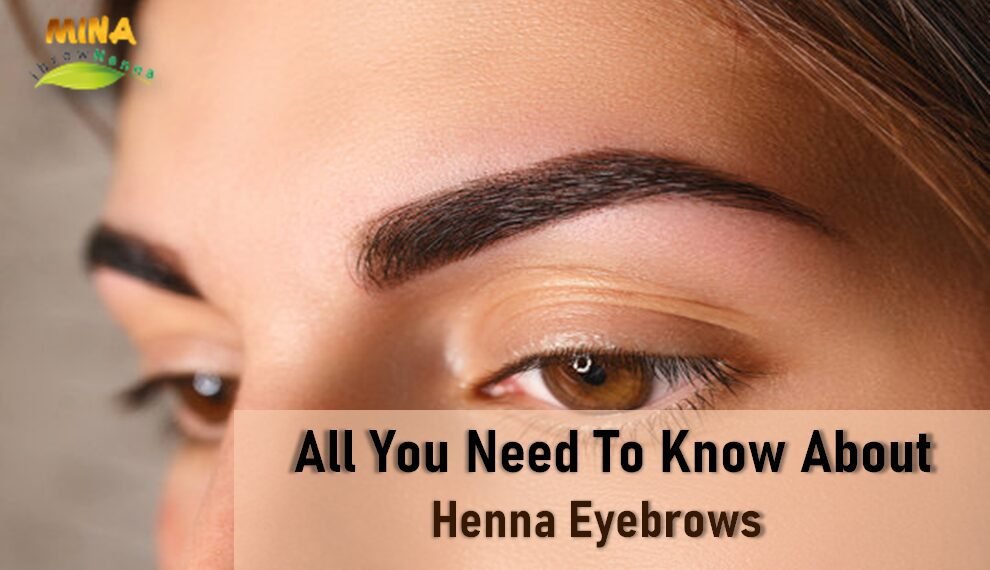 How long do henna eyebrows stay, and how do you keep them looking good?
Depending on your skin type, the effects of Mina Eyebrow Henna normally last up to 6 weeks. Henna brows will often remain a little bit longer on a person with a dryer complexion than they would on someone with an oily complexion.
It's crucial to avoid over-washing your face in order to preserve them for as long as possible. To make them last longer, you can also buy conditioners and oils.
It is claimed that people with good skin respond best to henna. The duration of the henna will be shortened by skin disorders like psoriasis, dermatitis, and eczema. It is not optimal to have recently exfoliated skin.
Henna brows: How do they stack up against other transient tintings?
The natural and secure alternative to tints and dyes for eyebrows is henna. It is an excellent choice for anyone with sensitive skin because it is vegan, environmentally friendly, and free of peroxide activators.
It has helped those who want their brows to be more defined but aren't quite ready to try cosmetic tattooing or microblading.
Using Mina Eyebrow Henna compared to other methods of brow tinting, henna works better in staining skin.
What other issues do henna tintings pose?
Henna is a tricky substance to apply and perfect, so there isn't much room for error. Since stains on the skin are difficult to remove, the application must be exactly what the client wants.
The outcome is dependent on the texture of the skin because it doesn't cover flaws and frequently seems uneven. Anyone who has thin hair, and dry, greasy, or porous skin will find this to be an issue in particular. Due to this, it is quite difficult to create the appearance of an eyebrow pencil or shadow that would sit on top of the skin and cover all these flaws.
Regardless of the type or color one uses, it can be noticed that even the new generation of Henna eyebrow dyes tend to alter the color a little as they fade, turning a little orangey. Black henna dyes, which don't seem to warm up as they fade, are the only ones that don't seem to cause this. Mina Eyebrow Henna though doesn't pose this problem.
Customers should know that PPD (paraphenylenediamine), a substance found in hair dyes that might be hazardous and call for a patch test, is included in black henna colors.